Dubai, many people's dream city, is embellished with the mesmerizing beauty of sparkling skyscrapers, beautiful yachts, blue sea beaches, lovely mountains, and ancient ruins for an exciting vacation. The islands in Dubai, endowed with a divine appeal, are ideal locations for ultimate tranquility amidst calming natural scenery. And renting a exclusive yacht is your best way to discover all the islands. The islands' crystal-clear seas, lush flora, calm environment, and joyful feelings will allow you to experience a soul-relaxing holiday close to nature on a yacht. The enchanting city is home to various natural and man-made islands that will transport you to a paradise of unparalleled joy with a yacht rental. Do you want to learn more about these fascinating islands? Voila! Continue reading!

Best Islands in Dubai: For a Soul-Soothing Vacation in the Beautiful City
The islands in Dubai, which provide a plethora of adventures and fun, are an ideal spot to unwind, rejuvenate, and spend time away from the hustle and bustle while you are in your yacht. The islands are sheer paradise, with luxurious resorts, residential areas, and recreational activities. Here are some of the greatest man-made and natural islands for a relaxing vacation on your yacht:
1. Palm Jumeirah
Palm Island Dubai, one of the nicest islands in the world, is a terrific destination to spend time in nature's lap with yacht rental. The Jumeriah Island's tree-like form, ultra-luxurious villas, magnificent flats, townhouses, and bustling nightlife make it the nicest island in the city. The beautiful beaches and luxurious ambiance of the soul-refreshing countryside are the key draws. On this island, several restaurants offer foreign pleasures and world-class services to treat tourists with hospitality.
2. Jumeirah Bay Island
The picturesque Jumeirah Bay Island, nestled in the Arabian Gulf, is an iconic spot to enjoy ultimate solitude while sitting in your yacht, elegance, and bliss. To relax your senses, the island provides a peaceful vacation amidst exquisite scenery and a lavish lifestyle. This is one of the greatest islands in Dubai, with several amenities. The island has it all: world-class Bulgari Resorts Residences, 101 rooms and luxurious suites, 20 hotel villas, and dining options. The 300-meter-long bridge provides a convenient way to the island.
3. Bluewaters Island Dubai
Bluewaters Dubai has every premium facility, adventure activities, dining options, and more, making it one of the greatest Islands for a vacation. The island is a guest's dream, with low-cost housing including 698 flats, 4 penthouses, 17 townhouses, and more. With its great waterfront lifestyle, there is a plethora of water sports activities to keep guests occupied with yacht rentals. Guests may enjoy a world-class gastronomic journey in renowned restaurants as well as a variety of amusement and leisure alternatives for a memorable trip in the UAE.
4. Lebanon Island Dubai
Lebanon Island is an iconic destination for a luxury stay and one of the top places to visit in the UAE. The islands are located amid the World Islands, Dubai, and provide fantastic views of mesmerizing scenery and breathtaking panoramas. The islands, which are adorned with natural beauty, elegance, and tranquility, are a great spot for a relaxing holiday away from the rush and bustle. Many travelers come here for a wonderful escape because of the world-class restaurants that provide delectable cuisine. Witness the breathtaking sunset and dawn views and recuperate amid the breathtaking environment on a yacht. Volleyball courts, calming baths, clubs, water sports and a vibrant nightlife make this a perfect hangout.
5. Palm Jebel Ali
Palm Jebel Ali, a long-term project of the Nakheel Group, is a magnificent island that is almost half the size of Palm Jumeirah. The gorgeous island, brimming with residential, commercial, entertainment, elegant resorts, restaurants, bars, and more, is ready to welcome travelers for a sumptuous holiday close to nature. The 70-kilometer-long gorgeous beaches, six marinas, and tranquil atmosphere make it one of the nicest islands in the UAE. The man-made hypnotic island, which will be completed and inaugurated in 2021, awaits your lavish vacation on a yacht. The island, which is home to around 250,000 people, provides an ideal getaway into a paradise of ultimate comfort and luxury.
6. Deira Islands
The Deira Islands are heaven on earth, with one of the cleanest and most gorgeous beaches in the UAE. The island is a comprehensive family entertainment zone for tourists, with stunning sceneries, premium hotels, and lavish restaurants with a view. Other attractions include lively recreation areas, retail shops for shopping, resorts, and motels. With an area of around 745000 square meters, the island employs over 80,000 people in a variety of industries ranging from restaurants, cafés, lifestyle, sporting activities, and more. The island is a major destination in Dubai. This is one of the top locations to visit in Dubai because of its luxurious lifestyle and fascinating beauty.
7. Marsa Al Arab
Marsa Al Arab, one of the most prominent Islands in the picturesque city of Dubai, is brimming with every luxury and comfort for guests on a yacht. The man-made island in Dubai is an ideal spot for a relaxing vacation near nature, complete with all the facilities necessary for a luxurious lifestyle. Theatres, water parks, a marina park, restaurants, cafés, premium hotels, and unhurried lodgings are among the top attractions for a sumptuous escape away from the mundane. If you are on your honeymoon in Dubai, this is a must-see destination for a blissful vacation.
8. Burj Al Arab Isle
One of the nicest things to do in Dubai is to rent a yacht to see the sumptuous ambiance surrounded by the natural beauty of the turquoise sea and lush flora. Burj Al Arab Isle is an iconic landmark known for its incredible architecture and grandeur. Tourists flock to the manmade island, which is known for its neighboring helipads and tranquil beaches. The jaw-dropping architecture of the island is perfect to visit if you are searching for a brief getaway into luxury and tranquillity. It took 6 years to build. The helipad, beaches, and unique restaurants make it an ideal Dubai honeymoon destination.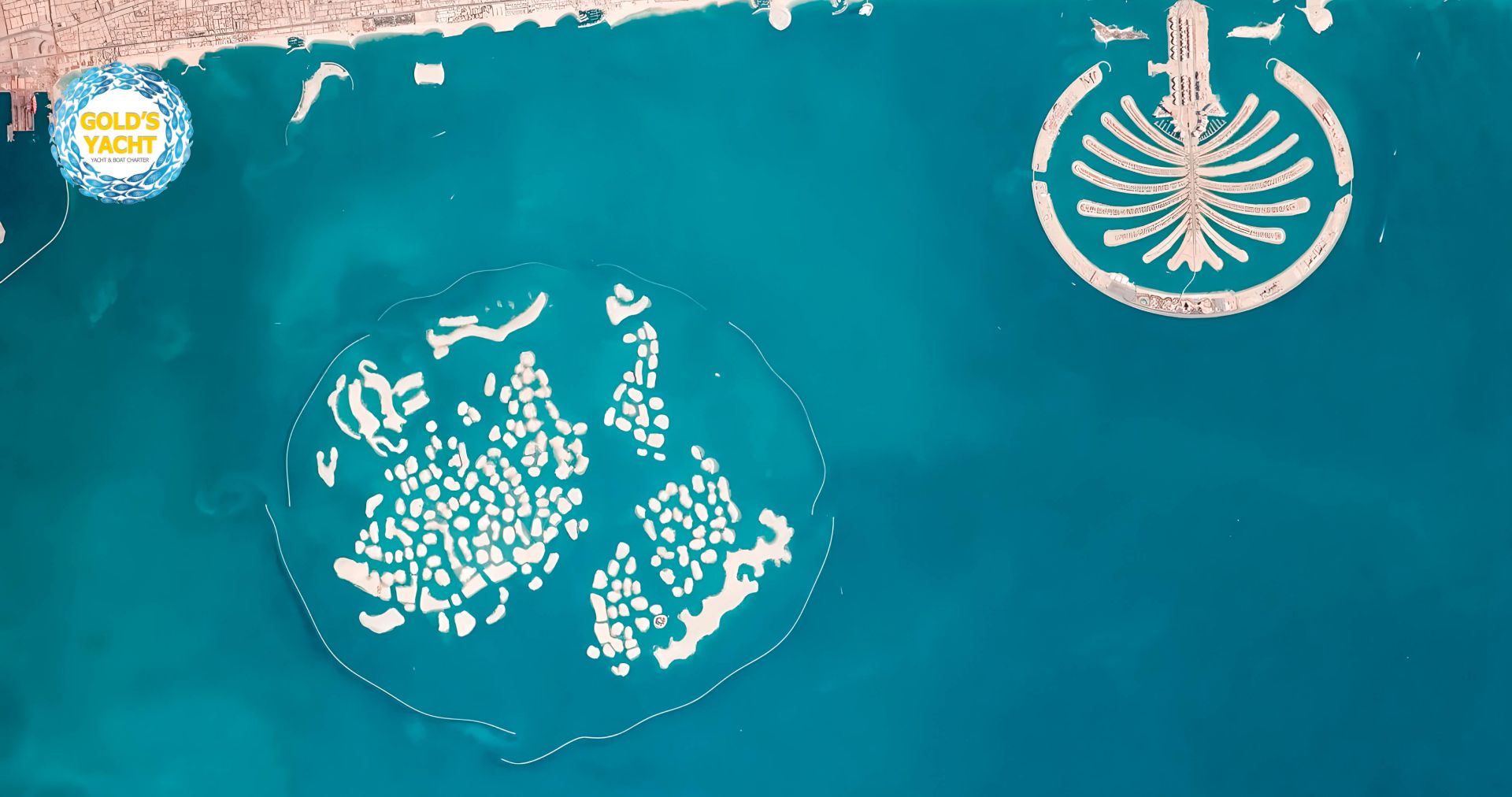 If you want to spend your vacation surrounded by luxury and natural beauty, a yacht rental is the best way to enjoy the islands of Dubai in the UAE. The islands provide a terrific time amidst a combination of natural and man-made wonders, with stunning beaches, mesmerizing scenery, a dynamic vibe, and natural charm. There is no shortage of amenities such as exquisite restaurants, lavish resorts, spas, gyms, malls, shopping complexes, and more for an unforgettable vacation. So, what are you holding out for? Rent a yacht and pack your luggage for a memorable vacation.