Cochem, Germany, is an alluring vacation spot thanks to its lovely combination of historic sites, natural beauty, and classical architecture. Located in the heart of the Moselle Valley, this picturesque town has plenty to offer visitors interested in learning about German culture and experiencing the charm of a bygone period. Cochem is a city full of treasures, from its picturesque vineyards and quaint alleyways to its famous castle built atop a hill. Let us take you on a virtual tour of this fascinating German city and all it has to offer.
Unveiling the Charms of Cochem
Cochem, located on the Moselle River's banks, is a picture-perfect town known for its gorgeous surroundings and architectural marvels. This picturesque location, complete with vineyards and verdant scenery, provides an intriguing look into Cochem Germany's rich history. Cochem is sure to attract visitors of all interests, be they history buffs, nature lovers, or wine experts.
A Glimpse into Cochem's History
Cochem is proud of its centuries-long heritage. The town was founded by the Romans, and its history since then includes the rise and fall of many different cultures. Cochem has been a thriving commercial and winemaking hub for centuries, and as a result, the city has left behind some very unique buildings and ways of life.
Reichsburg Castle: Preserving Cochem's Medieval Splendor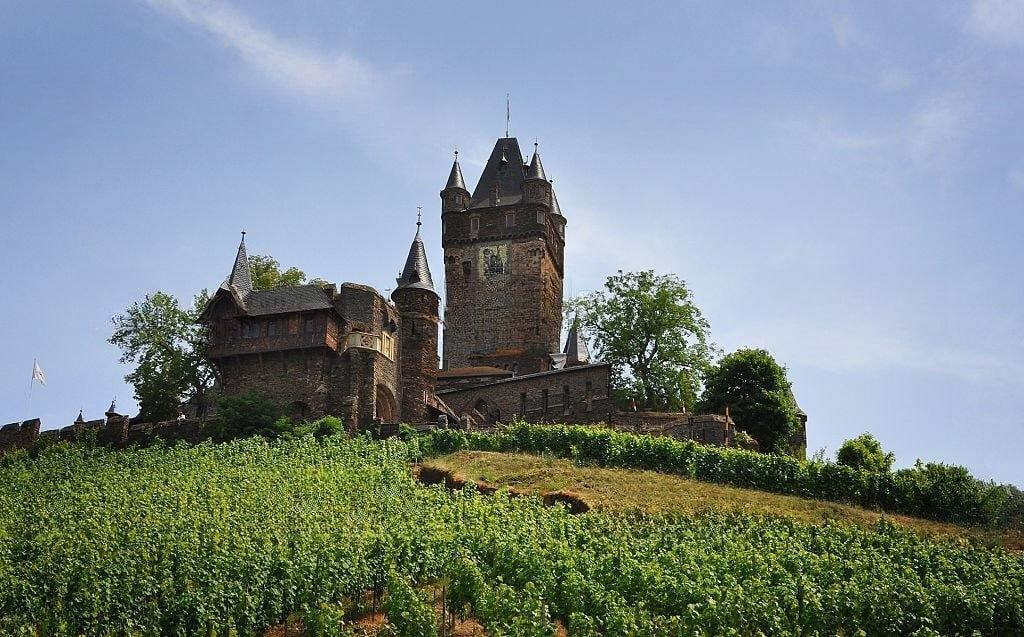 Reichsburg Castle, which overlooks the city, is a spectacular relic from medieval Cochem. This magnificent castle welcomes guests into a realm of knights and aristocratic heritage with stunning vistas of the Moselle Valley. The castle's lavish rooms may be explored on guided tours, where visitors can experience the stories of the castle's former residents and admire the fine craftsmanship.
Cochem's Old Town: Where History Meets Charm
Exploring the medieval streets of Cochem's Old Town on foot is like entering a storybook. The winding alleys are lined with colorfully decorated half-timbered homes that evoke a sense of nostalgia and playfulness. In the center of town, on the Marktplatz, you can enjoy a cup of coffee at a quaint café or shop for one-of-a-kind mementos in the many specialty shops.
Cochem's Vineyards: A Haven for Wine Connoisseurs
Cochem Germany's vineyards are just as well-known as those of the surrounding Moselle Valley. Experience the region's superb Rieslings and the passion of the local vintners on a wine-tasting tour through the region's gorgeous vineyards. Don't pass up the chance to explore an old-school wine cellar and learn how Cochem produces its award-winning wines.
Moselle River Cruise: A Tranquil Voyage
Cochem is best experienced on a relaxing trip down the Moselle River. Relax as you float by picturesque landscapes such as vineyards and towns perched on hills. You may relax and get in touch with nature while taking in breathtaking sights and a light breeze.
Cochem's Gastronomic Delights: A Taste of Tradition
Foodies will love what they find in Cochem's restaurants. Indulge in traditional German fare like schnitzel and sauerbraten, washed down with wines from the region. Try flammkuchen, a local pizza-like meal made with a thin crust and topped with cream, onions, and bacon. The restaurants and pubs in Cochem are known for their friendly service and relaxing atmosphere.
Nature's Haven: Parks and Gardens in Cochem
Cochem Germany has many beautiful parks and gardens perfect for individuals in need of some me time in the great outdoors. Located next to Reichsburg Castle, the Castle Park is a tranquil haven with colorful flowers and tree-lined walkways. The Wild- und Freizeitpark Klotten is a great place to take the kids because it has a wildlife park, rides, and plenty of grassy areas where you can have a picnic.
Cochem's Festivals: A Tapestry of Traditions
Cochem hosts a lively festival and event schedule throughout the year. The annual Cochemer Weinmarkt is a celebration of the town's viticultural history that include wine tastings, parades, and live music. Set against the stunning background of Reichsburg Castle, the Cochem Castle Christmas Market is sure to delight.
Exploring the Moselle Valley: Beyond Cochem
Cochem is a great starting point for excursions into the beautiful Moselle Valley. Visit neighboring Beilstein, Bernkastel-Kues, and Traben-Trarbach for a day to enjoy their distinct character and attractions. Travel outside of Cochem to see half-timbered houses, historic sights, and try regional specialties.
Cochem's Accommodation: From Cozy Guesthouses to Luxury Hotels
Cochem Germany offers a wide variety of lodging options to suit the needs of its guests. Guesthouses and bed & breakfasts offer a homey alternative, while five-star hotels offer spectacular scenery and 5-star service. There are a number of places to stay in close proximity to the beautiful Moselle River.
Cochem's Shopping Scene: Treasures to Take Home
Cochem's charming little boutiques and businesses make window shopping a pleasure. Shop for one-of-a-kind keepsakes including ceramics made by local artisans, wine from the area, and gourmet snacks. Discover the hidden gems and old treasures that represent Cochem's storied past by browsing the town's antique shops.
Navigating Cochem: Transportation Tips
Cochem is a small enough town that it can be covered on foot. However, renting a bicycle or car is a practical choice if you want to go further afield or discover nearby towns. The town also has a convenient public transit system that makes it simple to go around the Moselle Valley and beyond via bus or rail.
Safety First: Tips for a Hassle-Free Experience
Even though Cochem is a relatively risk-free vacation spot, it's smart to play things safe just in case. Make sure your belongings are safe, pay attention to your environment, and don't break any rules. In addition to this, having travel insurance, staying hydrated, and wearing comfortable shoes for exploring are all musts.
Embrace the Magic of Cochem
There is something magical about Cochem that calls to visitors with its storied past and gorgeous scenery. Every minute in Cochem Germany is magical, whether you're tasting local wines, wandering down cobblestone alleyways, or visiting the medieval beauty of Reichsburg Castle. Explore the fascinating town and everything it has to offer: rich history, beautiful scenery, and friendly locals.