Sandakphu, located in the Himalayan foothills, is a popular travel destination for explorers and ecotourists. This unexplored corner of the Indian state of West Bengal provides a stunning view of the world's highest mountains, including Everest and Kanchenjunga. The breathtaking dance of light and shadow cast by the sun rising and setting over these mighty giants is something that can only be seen from Sandakphu, the highest peak in the state.
Sandakphu: A surreal Visual Delight
Sandakphu, located in the Himalayan foothills, is a stunning example of nature's artistic prowess. It's the kind of location where everything you experience feels like a dream. Even yet, it's all true. The sky takes on colours that transcend description. When the light touches the mighty summits of Everest and Kanchenjunga. The walk to Sandakphu is like exploring a live painting. With each step, new details are revealed. The towering peaks of Sandakphu are out of this world.
The entire environment, from the verdant rhododendron groves to the peaceful alpine meadows, is magical. The stillness is deafening. The air is refreshing. Being here feels like coming home. Sandakphu is more than simply a place to visit. It's an adventure that leaves an indelible mark on your heart. Sandakphu is a location where ordinary life may seem like something out of a dream. So, if that's what you're after, get in your luggage and get there right now.
Sakdakphu and the Famous Old Land Rovers
The legendary ancient Land Rovers have long been connected with the tough environments of Sakdakphu in the Himalayas. The region's history and culture would not be complete without these classic cars. The Land Rovers have been essential to the local communities, transporting both people and products up the perilous mountain trails thanks to their sturdy construction and outstanding off-road skills.
These legendary automobiles have become more than just a means of mobility; they have become a symbol of fortitude and versatility. Over the years, individuals who have explored the Himalayas have grown to love them. The Land Rovers have brought innumerable explorers, hikers, and ecotourists to Sakdakphu, where they have marvelled at the region's stunning scenery.
Even though newer cars are gradually replacing these vintage Land Rovers, the people who relied on them for their travels through Sakdakphu will never forget them. They're a throwback to the days when adventuring to this far-flung and breathtaking location was even more exciting with these sturdy cars as reliable friends. If you ever find yourself in Sakdakphu, don't forget to honour the legendary vintage Land Rovers that have contributed so much to the town's character and charm over the years.
Sandakphu Height
The height of Sandakphu, often known as the "Land of Trekkers," is around 3,636 metres (11,929 feet) above sea level. Adventurers and nature lovers alike should make the trip to this lookout because of the breathtaking views it provides of some of the world's tallest mountains, including Everest and Kanchenjunga.
Sandakphu Weather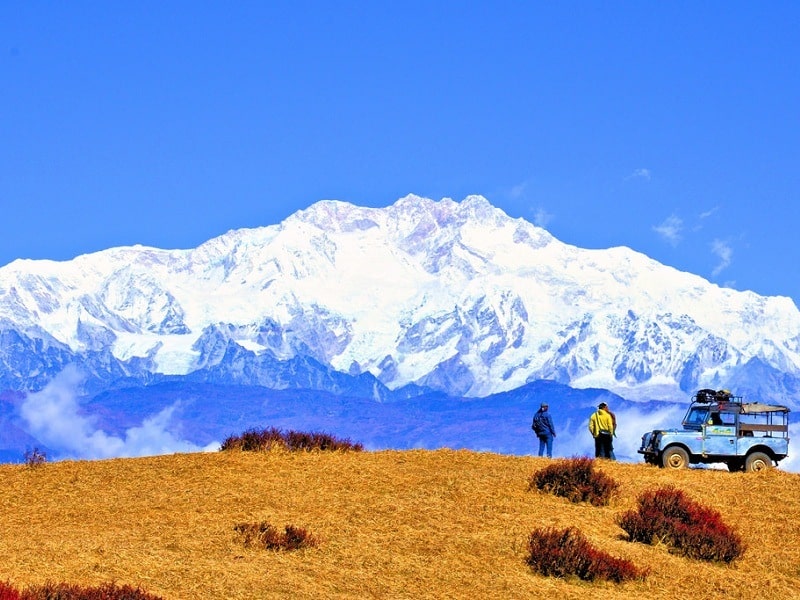 Sandakphu's position in the Himalayas contributes significantly to the city's notoriously fickle climate. It has a moderate climate with clear seasonal transitions.
Spring (March to May): One of the busiest seasons for tourists to visit Sandakphu is spring. The rhododendron woodlands spring to life with brilliant blossoms when the weather warms up. The cold days are perfect for hiking and taking in the stunning scenery.
Summer (June to August): Daytime temperatures in the summer in Sandakphu are temperate, making it a pleasant season for hiking and other outdoor pursuits. Even though the daytime temperatures are usually mild, you should bring warm clothes for the evenings and nights.
Monsoon (July to September): Sandakphu is less ideal for hiking and other outdoor pursuits during the monsoon season because of the considerable rains that occurs there. The routes become slick and difficult to navigate, and the vistas are frequently covered by clouds and mist.
Autumn (October to November): Sandakphu is also a great place to visit in the autumn. Blue sky and sunshine characterise the daytime climate. It's a great time to go hiking and see the Himalayas without the crowds thanks to the mild temps.
Winter (December to February): During this time, the weather in Sandakphu is quite cold. Extremely low temperatures and heavy snowfall are regular occurrences. Extreme difficulties arise on the trail, and inns and other services may be closed. In the winter, only hardy hikers who have properly prepared for the weather will risk visiting.
Sandakphu's climate varies greatly throughout the year, so it's important to check the forecast and pack properly if you want to visit.
Sandakphu: Best time to visit
When you should go to Sandakphu primarily depends on what you hope to get out of your trip. The best times to go hiking are in the spring (March–May) and fall (October–November) when the weather is mild and the scenery is stunning. The Himalayas are best seen in the spring, when a riot of rhododendrons burst into flower, and in the fall, when bright sky and warm temperatures provide for ideal viewing conditions. Sandakphu may be visited even in the summer if you don't mind rain and foggy scenery.
Sandakphu Hotels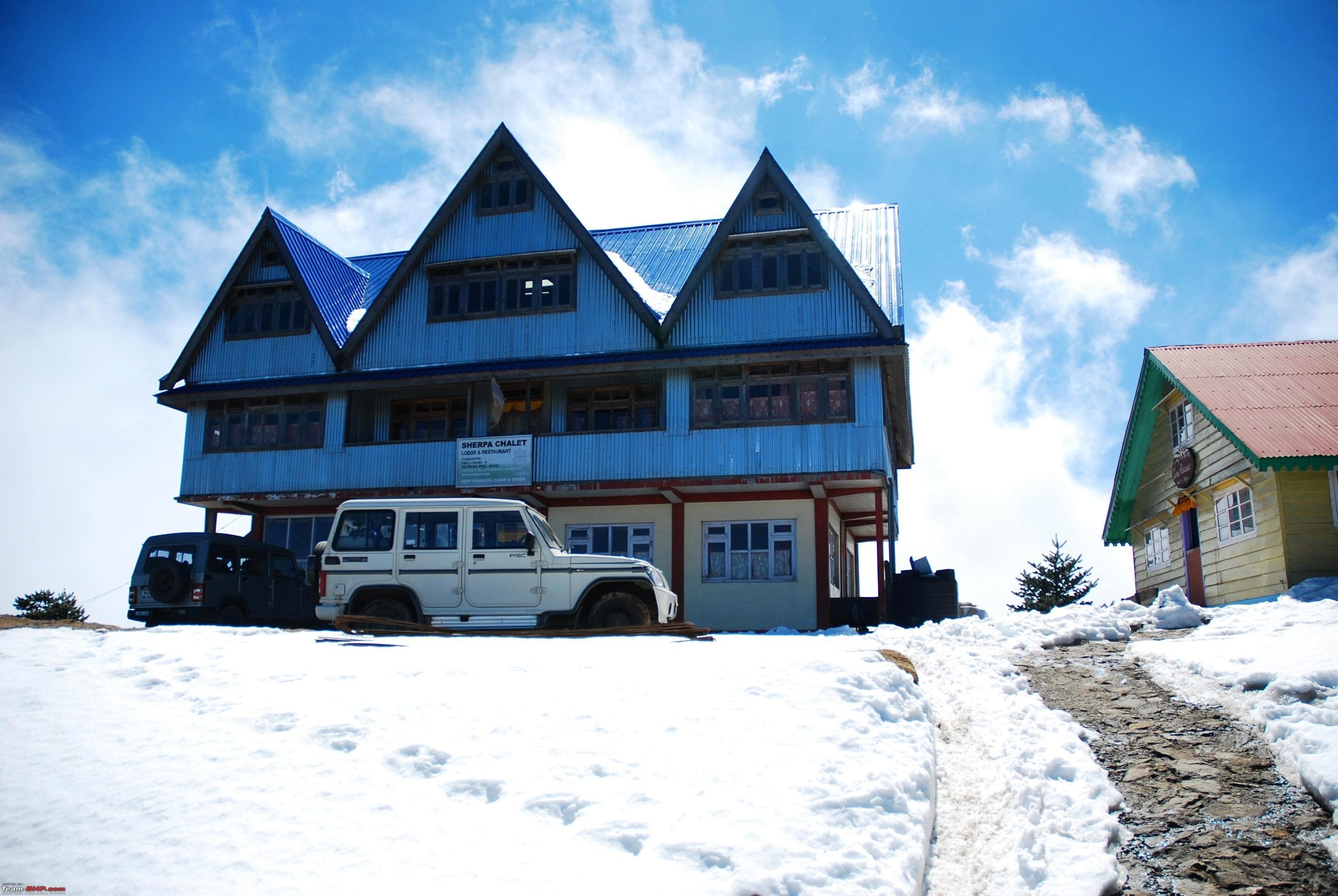 Certainly, here's a brief overview of the mentioned accommodations near Sandakphu:
Resort Sherpa International: It seems like you may stay at Resort Sherpa International if you want to be close to Sandakphu. Although I am unable to provide more detailed information, I strongly suggest you visit their website or get in touch with them to learn more about their services, facilities, and location.
Singtom Tea Estate & Resort: Singtom Tea Estate & Resort, with its location in the middle of beautiful tea fields, is sure to provide a relaxing and picturesque getaway. Visitors to the Darjeeling area may stroll through peaceful tea estates.
Chamong Chiabari Mountain Retreat: This resort stands out for its stunning surroundings and high-end facilities. It's a peaceful haven with a variety of spa services and a beautiful view of the Himalayas.
Udaan Himalayan Suites and Spa: Udaan Himalayan Suites and Spa is sure to provide its guests with a relaxing and rejuvenating stay. If you want specifics, you should visit their website or get in touch with them.
Sterling Darjeeling: The Sterling Hotels & Resorts brand includes the Sterling Darjeeling. Located adjacent to Sandakphu, the lovely town of Darjeeling is home to a number of hotels noted for their luxury and convenience. During their visit, guests may take advantage of a variety of services and amenities.
Visit the websites or call the establishments directly to learn more, check availability, and make reservations. Plan ahead if you can, especially during busy times of year, because availability and amenities may change.
How to go to Sandakphu
Sandakphu is located in a beautiful but difficult part of Nepal, thus careful planning is required to get there. Here is a high-level overview of transport options to Sandakphu:
1. Arrival in New Delhi or Kolkata:
Most visitors to Sandakphu begin their journey in one of India's main metropolitan areas, such as New Delhi or Kolkata.
2. Travel to Siliguri or Darjeeling:
Domestic flights to Bagdogra Airport in West Bengal's Siliguri region depart from New Delhi and Kolkata. New Jalpaiguri (NJP) Railway Station is another option.
You may rent a cab or take a shared jeep from Bagdogra or NJP to Siliguri or Darjeeling, the trailheads for the Sandakphu hike.
3. Proceed to Manebhanjan:
Travel to Manebhanjan, the entry point to Sandakphu, from either Siliguri or Darjeeling.
To go to Manebhanjan, which is located around 26 km from Darjeeling, you may use a cab or a shared jeep.
4. Start the Trek:
Manebhanjan is often the starting point for the journey to Sandakphu. To get the required permissions from the local authorities, you might engage a local guide.
Through verdant forests, picture-perfect towns, and steep inclines, the defined hiking trail leads you.
It takes around three to four days to complete the walk, with overnights in towns like Tumling, Kalipokhri, and Phalut.
5. Arrival in Sandakphu:
After many days of hiking, you'll reach Sandakphu, where the breathtaking vistas of the Himalayas, especially Everest and Kanchenjunga, will take your breath away.
6. Return Journey:
Once you've had your fill of Sandakphu's splendour, you may either hike back to Manebhanjan the way you came or take one of many other paths down.
Important Tips
Packing for unpredictable weather is essential, especially if you're planning a winter trip.
Make sure you have the right equipment for your walk, including good shoes, warm clothes, and food and water.
If you have no prior experience hiking in the Himalayas, it is highly recommended that you employ a local guide who is familiar with the trails.
It is recommended to check for updated information and make appropriate arrangements in advance to guarantee a comfortable travel to Sandakphu since road conditions and transportation alternatives are subject to change.