Nathia Gali, a tranquil hill station in Pakistan's majestic Himalayan range, is an undiscovered gem. It's only a few hours away from Islamabad. Yet, everyone who visits here raves about the beautiful scenery, fresh air, and calm atmosphere. Nathia Gali is a wonderful getaway for nature lovers and explorers. It offers enchanted woodlands, gorgeous hiking paths, and lovely colonial-era buildings. Nathia Gali offers something special to offer every type of traveller. Whether they are in search of a tranquil getaway or an exhilarating outdoor experience. We'll discuss some of the best Places to visit in Nathia Gali in this article.
Nathia Gali is a stunning hill station in Pakistan, and it may be reached by car. The route to Nathia Gali is as follows.
Starting Point
Find a good beginning point. Islamabad and Abbottabad, being the two closest large cities, serve as the jumping-off points for the majority of tourists.
Travel by Air (Optional)
Nathia Gali is serviced by Islamabad International Airport (ISB), the closest major airport to any location outside of Pakistan.
Road Travel:
From Islamabad: It is possible to drive to Nathia Gali from Islamabad. It's around 50 miles (80 km) away, and driving there and back may take anything from two to three hours. You may get to Nathia Gali from the Murree Road (N-35) by following the signage there.
From Abbottabad: The trip is around 35 kilometres (22 miles) shorter if you begin at Abbottabad. The trip should take roughly an hour and a half. Get on N-35, the Nathia Gali Road, and go north until you reach Nathia Gali.
Public Transportation (Buses/Taxis): From either Islamabad or Abbottabad, you may take a bus or a shared cab to Nathia Gali. In these cities, you may catch a bus or a cab from a number of different terminals and bus stations.
Travel Tips:
In the winter months, when snowfall is more likely, it's wise to verify road conditions and weather forecasts before setting out on the journey to Nathia Gali.
The routes in the mountains are more treacherous at night, so plan your journey for the day.
Nathia Gali tends to be colder than the surrounding surroundings, so make sure to bring along some warm clothing.
When you get to Nathia Gali, take advantage of the many sights, hikes, and scenery that this hill station has to offer. I hope you have a wonderful time getting here.
Best Places to visit in Nathia Gali
Nathia Gali's best-known landmarks and tourist spots are as follows:
Mushkpuri Top
Located in the Nathia Gali area of Pakistan, Mushkpuri Top (or just Mushkpuri) is a famous hiking destination. Mushkpuri Top, which is around 9,200 feet (2,800 metres) above sea level, provides stunning vistas of the mountains and valleys in the area.
With its well-kept paths and minimal elevation gain, it is a popular destination for hikers of all skill levels. Furthermore, an amazing outdoor experience awaits both environment lovers and adventurers. Furthermore, the ascent to the peak is adorned with lush vegetation and occasional encounters with local species.
Changla Gali
Located in Pakistan's beautiful Nathia Gali area, Changla Gali is a picturesque hill station. Those in need of peace and quiet away from the bustle of the city can find it at this location, which is perched at a height of around 8,600 feet (2,600 metres) above sea level. The cool, refreshing atmosphere and beautiful, wooded environs of Changla Gali are well-known.
Visitors may wander through the majestic pine forests. Additionally, they can relax in the peaceful setting or simply appreciate the unspoiled natural beauty. Not only is it a great place to relax in the Himalayas, but it is also a great place to explore the surrounding area, making it a must-see for outdoor enthusiasts.
Ayubia National Park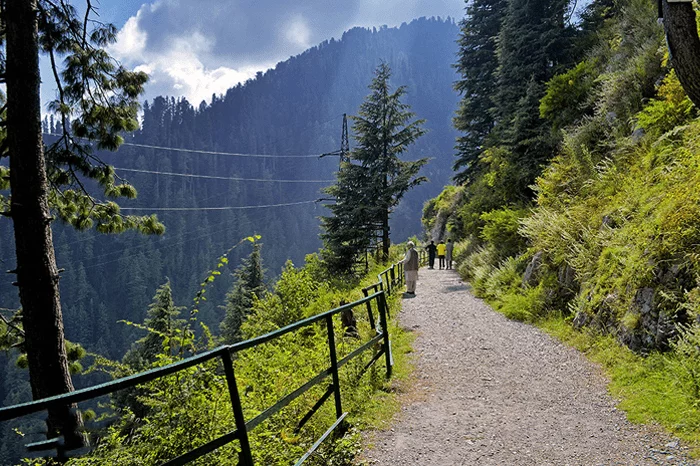 Located in the Murree Hills of Pakistan's Punjab region, the 3,312-acre (1,341-hectare) Ayubia National Park is a mesmerising natural wonderland. This national park, which bears the name of General Ayub Khan, Pakistan's second president, is well-known for its abundant flora and fauna and peaceful atmosphere. The park is a refuge for hikers. It has a number of well-maintained paths leading to scenic vistas. Among the more popular of these include the "Pipeline Track" and the "Trek to Mushkpuri."
In the spring, visitors may enjoy the sight of colourful wildflowers. In the winter, they can marvel at the stark beauty of a landscape blanketed in snow. The wide variety of avian, mammalian, and plant life in Ayubia National Park makes it a popular destination for nature lovers and thrill-seekers alike.
Dagri Bangla
One of the Most Beautiful Places to visit in Nathia Gali, Dagri Bangla (sometimes spelt Dagri Naka) is a beautiful hill station. This hidden treasure is located at an altitude of around 8,300 feet (2,530 metres) above sea level and provides a peaceful and calm retreat for visitors. Pine trees, a refreshing atmosphere, and breathtaking views of the surrounding mountains define Dagri Bangla.
Hikers and outdoor enthusiasts will love this location, since it is home to several beautiful routes, some of which lead to nearby mountain peaks like Mukshpuri and Miranjani. Dagri Bangla's allure comes from the tranquilly of the Himalayas and the area's pristine natural beauty.
Harnoi waterfall
Enjoy a day in the great outdoors at the family-friendly Harnoi waterfall, not far from Abbottabad in Pakistan. The stress and bustle of city life may be left behind as you relax in this tranquil and well-kept picnic spot. Harnoi Picnic Area is located in the beautiful Hazara area and offers plenty of open space for picnicking, unwinding, and taking in the sights and sounds of nature.
At the Harnoi, sightseers may spend the day relaxing in the sun, fishing, or taking a boat trip on the placid waters. The location is perfect for a day of outdoor fun and relaxation. It offers an abundance of picnic tables, BBQ grills, and hiking paths. Harnoi Picnic Area is a lovely place to relax and enjoy the scenic splendour of the countryside around Abbottabad. Whether you're looking for some time alone in nature or a memorable adventure with the whole family.
Miranjani Top
With a height of around 9,000 feet (2,750 metres), Miranjani is one of the tallest peaks in the Nathia Gali area of Pakistan. It is a popular hiking spot for both residents and visitors because of the breathtaking vistas it offers. From Nathia Gali, hikers take a well-marked path through pine and oak woodlands on their way to the top.
As climbers ascend, they will be greeted with panoramic views of the landscape below and the mountains in the distance. The highlight of the hike, in addition, is arriving at the peak. From there, you can take in breathtaking views of the Himalayas from all directions. On a clear day, Nanga Parbat, the ninth-highest peak in the world, may be seen from here.
Trekkers of all experience levels go to Miranjani for its stunning scenery and manageable difficulties. Located in the middle of Pakistan's magnificent northern landscapes, Miranjani delivers an unforgettable experience for nature lovers, photographers, and those seeking a tranquil outdoor adventure.
Dunga Gali
One of the Finest Places to visit in Nathia Gali is Dunga Gali, a picturesque hill station in Pakistan's Nathia Gali area, is a haven for those in search of peace and quiet in the midst of nature. This picturesque village, located at a height of around 8,500 feet (2,590 metres) above sea level, is a tranquil refuge from the bustle of the metropolis.
Greenery abounds in Dunga Gali, and the area's natural woods and pleasant temperature have earned it a stellar reputation. Visitors may enjoy the scenic landscape by going on walks or hiking, or they can just relax and take it all in. The town's variety of colonial-era buildings also contributes to its endearing character.
Dunga Gali, a beautiful mountain destination, offers tranquilly, a chance to connect with nature, and serves as a jumping-off point for exploring the surrounding Nathia Gali area.
Nathia Gali Water Fall
Located in Pakistan's picturesque Nathia Gali area, the gushing waters of Nathiagali Waterfall are a sight to see. This waterfall is a hidden jewel in the Himalayan foothills, surrounded by verdant vegetation and untouched woodlands.
Visiting Nathiagali Waterfall, in addition, usually entails a brisk stroll through the lush forests. Furthermore, this only adds to the excitement of the trip. As you approach the waterfall, furthermore, the sound of the water's roar and the sight of the pure stream cascading down the rocky landscape will increasingly become audible and visible. Additionally, the pool at the foot of the waterfall is a lovely place to cool down and reflect.
For those in search of peace and quiet, Nathiagali Waterfall is an ideal destination. Relax and reconnect with the natural splendour of the Nathia Gali area in this beautiful setting, enhanced by the sound of trickling water.
Samundar Katha Lake
Samundar Katha Lake, a little-known jewel, draws in tourists due to its location in Pakistan's gorgeous Nathia Gali area. At a height of around 9,000 feet (2,743 metres) above sea level. This unspoiled alpine lake is encircled by verdant trees and lofty hills.
A visit to Samundar Katha Lake begins with a scenic walk through dense pine and oak forests. It is itself an exciting excursion. The lake's dazzling blue waters and the reflection of the surrounding foliage make for a breathtaking sight as you draw near. Here, many different kinds of birds and other animals may frequently be seen.
Nature lovers, hikers, and photographers looking for a quiet retreat in the Himalayas should visit Samundar Katha Lake. This alpine lake in the Nathia Gali area is a fantastic destination whether you're seeking a strenuous hike or a peaceful spot to unwind and take in the stunning scenery.
Saint Mathews Church
One of the best Places to visit in Nathia Gali is Saint Matthew's Church. It is a historic and aesthetically noteworthy monument in the peaceful Nathia Gali district of Pakistan. Located in the beautiful Himalayan foothills, this colonial-style chapel is well-known for its peaceful atmosphere and magnificent setting.
Saint Matthew's Church, constructed in the late 19th century during the British colonial era, showcases an attractive architecture with timber interiors and stained glass windows that have stood the test of time. The church is a place of worship for local Christians. It also welcomes others seeking solace and tranquilly, while marvelling at its breathtaking design.
Furthermore, the Nathia Gali region is steeped in history, and as a result, Saint Matthew's Church serves as a witness to that. Moreover, it serves as a serene sanctuary for those seeking a spiritual retreat or merely desiring to immerse themselves in the breathtaking splendour of the Himalayas. Additionally, visitors can marvel at the historical significance and architectural grandeur of this meticulously preserved colonial chapel.
Lalazar Wildlife Park
Located in Pakistan's Nathia Gali district. Lalazar species Park is a haven for local species and a chance to learn about the region's rich biodiversity. The park's location amid a landscape of rolling hills and verdant woodlands makes it a haven for anyone interested in nature and wildlife.
Native animals such as deer, leopards, and a wide range of birds call the park home. Trails and lookout sites are kept in good condition so that visitors may see wildlife without endangering themselves or the animals.
The Lalazar Wildlife Park is a wonderful place for those who like nature to relax. It also helps with local preservation efforts. It's a great place to teach kids and adults alike about the value of protecting wild places and the plants and animals that call them home.
Lalazar Wildlife Park is a must-see for those interested in appreciating Pakistan's rich biodiversity and seeking an immersive experience in the region's natural splendour.
Conclusion
Beautiful Places to visit in Nathia Gali, and it will enchant you with its peaceful atmosphere. This hidden jewel of Pakistan may be found in the foothills of the Himalayas, and it offers the perfect balance of scenic beauty, outdoor activity, and relaxation. Nathia Gali's vistas are a monument to the majesty of nature, from the towering peaks of Miranjani and Mushkpuri to the crystal-clear lakes and flowing waterfalls.