Garpanchkot, a small town in the green farmland of West Bengal, has a way of drawing people in. This hidden gem is a good example of how India is full of beautiful and historically important places. We'll show you some of the magical things about this place.
In terms of weather, Garpanchkot is the same as the rest of the Chota Nagpur Plateau in West Bengal. If you want to visit this beautiful place in comfort, you should know what the weather is like and when is the best time to go. Here are the average high and low temperatures in Garpanchkot, which will help you plan your trip.
Summer (March to June):
Temperature: During the summer, it is not too hot or too cold in Garpanchkot.
Daytime Temperature: Most days, the temperature ranges from 30°C to 38°C (86°F to 100°F) during the day.
Weather: You can expect dry, sunny, and sometimes hot weather. During this time, it can get quite warm.
Activities: Even though it's warm, now is a great time to go hiking, camping, or sightseeing because there won't be many people there and it won't be too hot. Don't forget to bring sunscreen and drink a lot of water.
Monsoon (July to September):
Temperature: The monsoon cools down the summer, but it can also be very hot.
Daytime Temperature: During the day, the temperature is between 25°C and 30°C (77°F and 86°F).
Weather: During the rainy season, it rains moderately to a lot in Garpanchkot. During this time, the lush greenery of the area comes to life.
Activities: If you like the way things look after it rains, this is the right time of year for you. Rain could make it hard to go hiking or do other outdoor activities, so plan ahead.
Autumn (October to November):
Temperature: Autumn is a great time to visit Garpanchkot because the weather is nice.
Daytime Temperature: Temperatures vary from 25°C to 32°C (77°F to 90°F) during the day.
Weather: The weather is dry and warm, so it's a great time to go outside and explore.
Activities: Hiking and sightseeing in Garpanchkot are best in the autumn when the weather is mild and the foliage is at its peak. The sunny skies and mild temperatures make it an ideal holiday spot.
Winter (December to February):
Temperature: The winters in Garpanchkot are cold, but they have their own special charm.
Daytime Temperature: The temperature during the day is between 10°C and 20°C (50°F and 68°F).
Weather: You can expect the weather to be cool and crisp, and there may be fog in the early mornings and late nights.
Activities: Winter is a good time to visit for those who would rather avoid the heat of summer. The heat of summer makes museums and other historical sites unpleasant to visit. Don't forget to bring along warm clothing to keep you cozy over the night.
Best Time to Visit Garpanchkot
October and November are great months to visit Garpanchkot because the weather is warm and there are lots of outdoor things to do. You can come between December and February, which are the warmer months. If you stay away from the height of summer and the wet rainy season, your time in Garpanchkot will be much easier and more fun.
Garpanchkot: Places to Visit
Garpanchkot is a place that has a mix of natural beauty, historical importance, and cultural experiences. Here are some of Garpanchkot's must-see spots:
Garh Panchakot (Panchakot Fort): The town's most well-known feature is this old fort. The remains of Garh Panchakot were made in the 17th century, and they show how the area has changed over time. Inside the fort's walls, you can find the ruins of a temple and a house.
Panchet Dam: Picnics and walks along the Damodar River are nice things to do near the Panchet Dam. The hills and water basins outside the dam make it a famous place for people who like to be outside.
Ayodhya Hills: These beautiful hills are a great place to go hiking or walking for the day. The Ayodhya Hills are full of thick forests, running streams, and lush greenery, which makes them a great place to go for a walk or do something else outside. On the hills, there are many different kinds of plants and animals.
Kalyaneshwari Temple: Hindus often go to the Kalyaneshwari Temple, which is close to Garpanchkot. The people in the area go to the temple because it has religious significance and looks so nice.
Joychandi Pahar: This hilltop is a famous tourist spot because it has granite shapes and a wide view. A great place to watch the sunrise or sunset and a famous spot for rock climbing.
Upper Dam and Lower Dam: These twin dams, which give water to the area around them, are a marvel of building. They are also called Panchet Upper Dam and Panchet Lower Dam. They offer a peaceful place to rest and take pictures.
Muruguma Dam: Like many other ponds in the area, Muruguma Dam is a nice place to find peace in Garpanchkot.
Matha Forest: Visit the Matha Forest, which is part of the Dalma Wildlife Sanctuary. It's a great place to go for a walk in the fresh air and see birds and other animals.
Garpanchkot Hotels and Resorts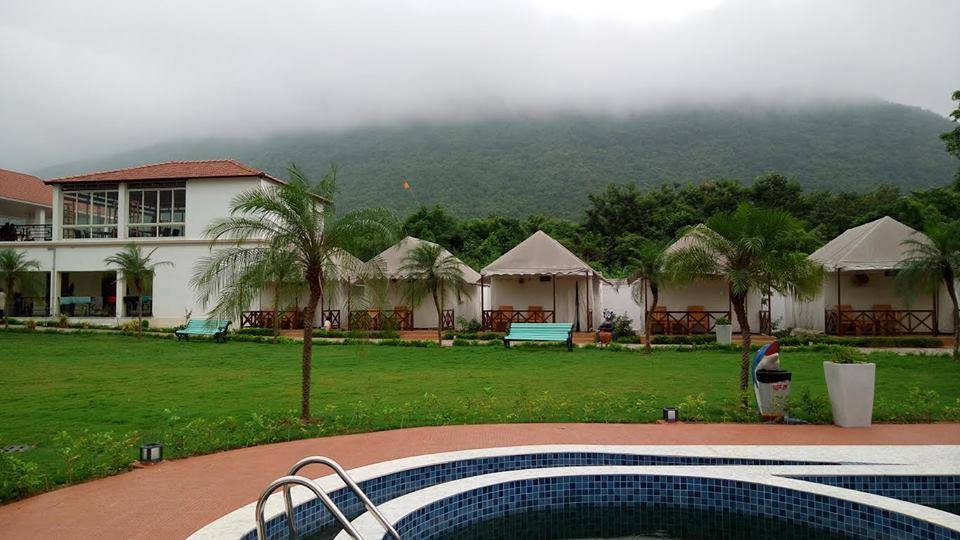 Garpanchkot Nature Resort
People who want a more rural experience often go for this option. The cozy rooms and lush surroundings of the resort make it a great place to spend a holiday.
Panchet Residency
Next to Panchet Dam, Panchet Residency has large, well-equipped rooms with all the comforts of home. This is a great way to see both the dam and the area around it.
Hill View Resorts
The name of the resort comes from the beautiful views it offers of the nearby hills. It is in a quiet area and the rooms are nice.
Peerless Sarovar Portico
This hotel in Purulia is run by Peerless Group and has comfortable rooms and high-tech features. Even though it is not in Garpanchkot, it is a good option for people who would rather stay in a bigger city.
Jubilee Hill Resort
The Jubilee Hill Resort is close to the Ayodhya Hills and has nice rooms and a beautiful view. Nature lovers and people who like to walk will love it.
Kalyaneshwari Temple Guest House
If you are on a tight budget, the guest house near Kalyaneshwari Temple might be a good choice. It's a simple hotel with just the things you need.
Private Homestays
Hotels and resorts are not the only places to stay in the Garpanchkot area. These may give you a more personal and real taste of the area.
Garpanchkot is a fascinating place in the Purulia district of West Bengal. It has a unique mix of natural beauty, historical importance, and cultural wealth.