Lepchajagat, hidden away in the dense woods of the Eastern Himalayas, is an idyllic, under-the-radar Lepchajagat Homestay for nature lovers. This scenic village in the Indian state of West Bengal is an ideal place to escape the metropolis's hustle and bustle.
Lepchajagat has been a well-kept secret among environment lovers and birdwatchers due to its unspoiled landscapes, lush woods, and breathtaking vistas of the Kanchenjunga mountain range. As you enter this picture-perfect village, you'll be greeted with lush vegetation, singing birds, and an enchanting calm. With this primer, we hope you'll be inspired to explore everything Lepchajagat Homestay offers.
Lepchajagat – The World of the Lepchas
Secluded in the unspoiled Eastern Himalayas, Lepchajagat is a timeless haven. This charming village gives visitors a rare look into the lives of the indigenous Lepcha people, who have lived in these forested highlands for generations. The Lepchas' rich cultural heritage and customs may be experienced through the dense forests and meandering paths of Lepchajagat.
The region's natural beauty complements the traditional Lepcha way of life, creating an atmosphere of peace and harmony throughout the community. Locals are kind and hospitable, always happy to tell visitors about their culture. Lepchajagat is more than a place to visit; it's an opportunity to immerse yourself in the culture of the Lepcha people fully, learn about their profound relationship with the natural world, and enjoy the sweet simplicity of a life lived in harmony with the earth and its rhythms.
What can you do and experience at Lepchajagat?
In addition to the activities and sights already described at Lepchajagat, you may also visit Hawa Ghar and Ghum Rock.
Hawa Ghar:

 You may find the lovely Hawa Ghar, often called "Windy Point," near Lepchajagat. Named for the refreshing breezes and panoramic views of the Himalayas, this location lives up to its billing. It's a beautiful mountain setting, perfect for a picnic, photography, or just taking it easy.

Ghum Rock:

 The neighbouring Ghum Rock is another excellent destination. This granite outcrop is a great place to get a bird's-eye view of the surrounding Himalayas and verdant lowlands. It's an excellent spot for a quick climb, and the sights at the peak will leave you with lasting impressions.
Hawa Ghar and Ghum Rock are two other attractions that draw people to Lepchajagat, where they may get in touch with nature and take in the stunning scenery of the Eastern Himalayas. These sights and activities add to Lepchajagat's allure, whether you're a peace-seeker, an explorer, or an adventurer.
Places to Visit near Lepchajagat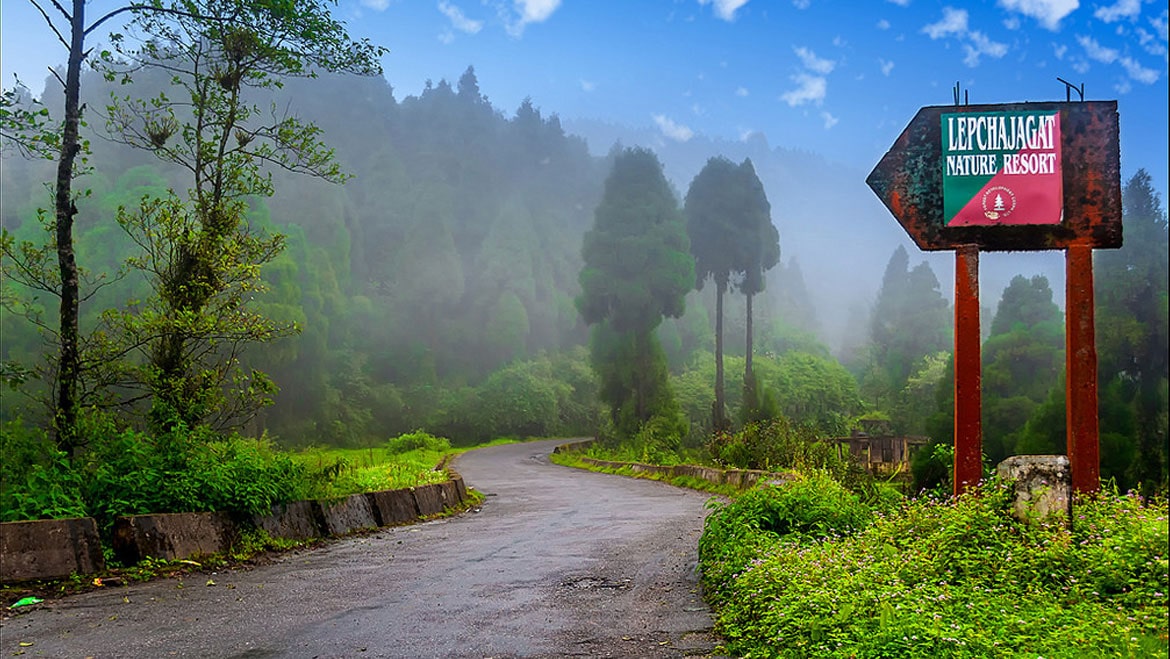 If you're exploring Lepchajagat and want to visit nearby attractions, here are some places you can consider:
Jorpokhri
About 16 kilometres from Lepchajagat lies the breathtaking high-altitude lake of Jorpokhri. This tranquil lake is renowned for its natural beauty and is encircled by lush vegetation. The region's abundance of vegetation and animals makes it a fantastic destination for outdoor enthusiasts and birdwatchers.
Ghoom Monastery
One of the most well-known Buddhist monasteries in the Darjeeling area is the Ghoom Monastery, also known as the Yiga Choeling Monastery. Ghoom, around 10 km from Lepchajagat, is where you'll find it. The monastery is home to a stunning statue of Maitreya Buddha and provides a tranquil setting for contemplation and discovery.
Pashupati Market
Pashupati Market is a busy marketplace around 30 kilometres from Lepchajagat, close to the India-Nepal border. You may get anything from clothes to electronics, handmade products, and more here. The exciting ambience of a border market is also available to you.
Maneybhanjan
The famed hiking destination of Sandakphu begins with a visit to Maneybhanjan, a little village around 12 kilometres from Lepchajagat. From Maneybhanjan, adventurers can begin the journey to Sandakphu. The town is a fascinating window into regional culture and way of life.
All sorts of exciting activities, from sightseeing and museum visits to shopping and outdoor adventures, may be found nearby. They enrich your experience in Lepchajagat and open up more of the Darjeeling area to you.
How to reach Lepchajagat
Getting to Lepchajagat entails travelling through the beautiful Eastern Himalayas. Siliguri, a significant town in West Bengal, is the most typical starting point for trips to this peaceful village. You may take a private cab or a shared taxi from Siliguri to the top of the hill. The route to Lepchajagat is beautiful but twisty and tight in places. A second option is to go by train to the conveniently located New Jalpaiguri (NJP) railway station, from where you can access most major Indian cities by road. You may also get to Siliguri by flying into the nearest airport, Bagdogra Airport, and then taking a car trip.
The trip to Lepchajagat may take a few hours, but the beautiful scenery and peaceful atmosphere along the route are well worth the effort. If you'll be here during the busy tourist season, arrange your transportation in advance.
Homestays at Lepchajagat
One of the best ways to get a feel for this peaceful Himalayan community is by staying in a local's home. Lepchajagat Homestay, located in the heart of the verdant forests and unspoiled surroundings, welcomes visitors looking for more than simply a place to lay their heads. When you stay at a Lepchajagat homestay, you're welcomed into the family and treated like one of the kids. You'll eat delicious meals made with care and ingredients from the area.
The tranquil atmosphere and stunning mountain views from the comfortable rooms make them perfect for rest and reflection. Lepchajagat Homestay is the best way to truly experience this hidden gem in the Himalayas, whether that's through forest exploration, tea by the fire, or a deeper understanding of the ancient Lepcha traditions.
Best time to visit Lepchajagat
The seasons of spring and fall are ideal for exploring Lepchajagat. From March through May, the village is awash in vibrant colours as rhododendrons blossom, transforming the area into a picture-perfect scene.
The calm and pleasant weather is perfect for taking long walks in the woods and viewing birds. Thanks to the bright sky and crisp mountain air, the Himalayas are shown in all their glory from September through November. This time of year is ideal for exploring the stunning landscape of Lepchajagat on foot. These times of year are ideal for exploring this Eastern Himalayan jewel, home to lush floral displays and breathtaking mountain panoramas.