The picturesque Indian beach of Baguran Jalpai may be found on the unspoiled shore of the Bay of Bengal. It is a paradise for beachgoers and environment lovers because of its golden dunes, blue seas, and peaceful atmosphere. Beautiful sunsets, palm-lined beaches, and a diverse marine ecology await you at this hidden treasure in the Indian state of West Bengal. Whether you're looking to unwind, engage in water sports, or learn about the local culture, you'll find everything you're looking for and more at Baguran Jalpai.
The Road Trip to Baguran Jalpai
A drive to Baguran Jalpai by car is an experience unlike any other. Travelling through India's varied landscapes, cultures, and traditions is a highlight of this trip. The closer you go to this secluded beachfront paradise, the more the excitement increases as you leave the city behind.
It's not just about arriving at Baguran Jalpai; it's also about the stories you'll tell, the snacks you'll consume, and the scenery that will stay with you forever. Get ready for an exciting and relaxing road journey as you make your way to the beautiful beaches of Baguran Jalpai by filling up your gas tank.
The Beach
Located on the unspoiled shores of the Bay of Bengal, the Beach at Baguran Jalpai is a little-known coastal jewel. This magnificent spot epitomizes peace and beauty in the great outdoors. The Beach in Baguran Jalpai is a haven of peace and tranquillity, with its golden beaches, calm surf, and swaying palm trees. This beach is perfect for unwinding and connecting with nature, whether you want to lie in the sun, stroll along the water's edge, or enjoy the fresh air.
A wonderful coastal getaway, Baguran Jalpai's Beach is a location where the rhythm of the waves creates a symphony for the spirit.
The Land of Red Crabs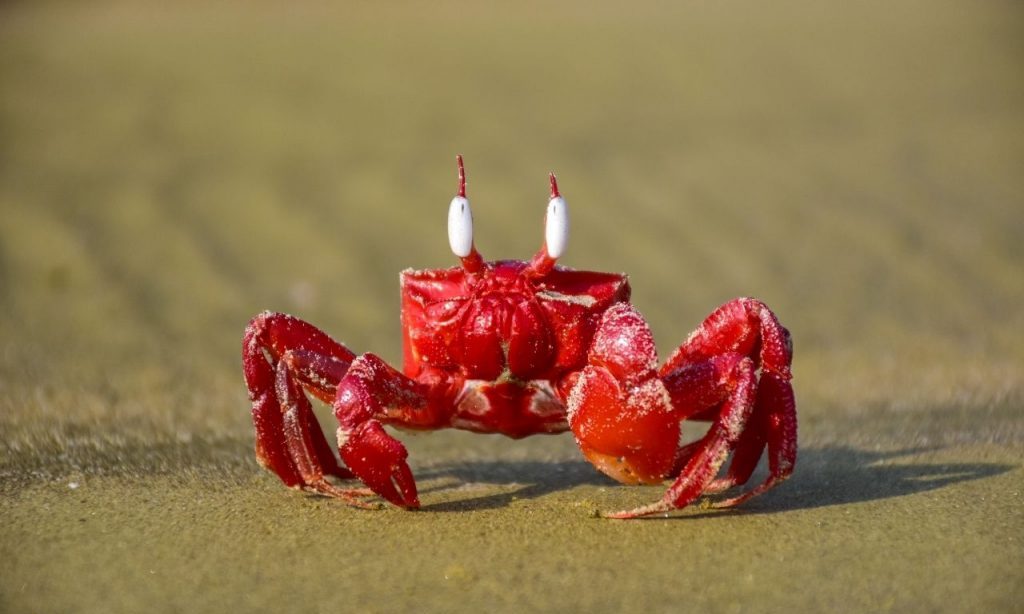 The Land of Red Crabs is an extraordinary and alluring part of the world. Millions of bright red crabs annually migrate to this unspoiled shore in the northeastern corner of India. When the monsoons roll in, the landscape is transformed into a beautiful sea of red as tiny terrestrial crabs make their fascinating trip from the verdant interior to the coast. Baguran Jalpai's Land of Red Crabs is a living example of the region's extraordinary biodiversity. This unique destination provides nature lovers and interested tourists with a once-in-a-lifetime opportunity to see the spectacle of this extraordinary migration against the backdrop of the stunning coastline scenery.
How to reach Baguran Jalpai?
Baguran Jalpai is an attractive seaside spot in northeastern India that can be reached by road and train. The standard procedure for getting to the beach is as follows:
By Air

: Netaji Subhas Chandra Bose International Airport (CCU), located in Kolkata, West Bengal, is the closest major airport to Baguran Jalpai. Cooch Behar Airport (COH) and Bagdogra Airport (IXB) are domestic airports near Baguran Jalpai from where you may catch a flight.

By Train

: From Cooch Behar or Bagdogra, visitors can get a train to Alipurduar Junction (APDJ), the closest major station. The main Indian cities, such as Kolkata and New Delhi, are easily accessible from Alipurduar Junction. Be careful to plan by checking train times and availability.

By Road

: You may take a cab or a bus from Alipurduar Junction to Baguran Jalpai. Tea gardens and verdant scenery will dot the road trip's itinerary. It's around 50-to-60 kilometres from Alipurduar Junction to Baguran Jalpai, give or take, depending on traffic and weather.

Local Transportation

: After arriving at Baguran Jalpai, visitors may use local transportation choices, including auto-rickshaws and cycle rickshaws, to get about the city.
Before embarking on a journey, it is recommended that you familiarize yourself with the most up-to-date travel information, train timetables, and road conditions. If you want to make the most of your time in this tranquil seaside area, it's a good idea to reserve lodgings in advance, especially during busy tourist seasons.
Where to stay in Baguran Jalpai?
There are a few inexpensive hotels in the area. Some recommended lodgings in Baguran Jalpai are as follows.
Guesthouses and Homestays

: Staying in a guesthouse or homestay is a great way to immerse yourself in the local culture and hospitality. These might provide basic but pleasant lodgings and a chance to meet the locals.

Budget Hotels

: Alipurduar and Cooch Behar are two adjacent cities where you might locate inexpensive hotels and resorts. These motels could provide the bare minimum in services at a reasonable price.

Resorts

: There may be resorts or eco-friendly hotels in the neighbourhood, providing a higher standard of living and many extra services. These may cost more than bed-and-breakfasts or cheap hotels.

Booking Platforms

: Check for available lodgings in the area through internet booking platforms such as Booking.com, Agoda, or Airbnb. Several of these sites have user reviews and star ratings to aid with your decision.
Since weather and hotel availability are subject to change, it's best to plan your trip and book your lodgings as close to your departure date. In addition, if you want to guarantee a spot to stay in this peaceful seaside location during the busy season, you should make reservations in advance.
What is the best time to visit Baguran Jalpai?
Baguran Jalpai is a tranquil seaside resort in northeastern India, and the ideal time to come is during the winter and spring, namely between November and April. The weather is at its best and most conducive to travel at this time.
From November through February, the coast enjoys a mild, dry winter season, perfect for sightseeing and outdoor activities. Those who love the outdoors and prefer a more tranquil trip may find March and April's spring season ideal. During the early summer months of May and June, Baguran Jalpai remains somewhat less busy, although the growing heat and humidity may make outdoor activities less appealing. Therefore, winter and spring are the best times to visit for pleasant weather.
Other places that you can visit in Baguran Jalpai
Here are some places you can visit near Baguran Jalpai:
Cooch Behar
Additionally, Cooch Behar, near Baguran Jalpai, is a medieval city with a rich royal history. Furthermore, the Cooch Behar Palace is an important historical landmark with stunning architecture that you must see. Additionally, the nearby Madan Mohan Temple is also worth a visit.
Buxa Tiger Reserve
Buxa Tiger Reserve is a refuge for wildlife aficionados located around 70 kilometres from Baguran Jalpai. There are many different kinds of plants and animals, such as tigers, leopards, elephants, and birds. The Buxa Fort, part of the reserve, may be visited to learn more about the region's history.
Jaldapara Wildlife Sanctuary
The Indian one-horned rhinoceros population may be found in this sanctuary, around 50 kilometres from Baguran Jalpai. Safaris are a great way to see these amazing animals: elephants, bison, deer, and many more.
Jayanti
The settlement of Jayanti is peaceful and rests close to the Buxa Tiger Reserve. Its verdant woodlands and the lovely Jayanti River are well-known attractions. The area's waterfalls and stunning vantage spots are easily accessible via short walks.
Chilapata Forest
About 60 kilometres from Baguran Jalpai, you'll find a forest home to various animals. Activities like birding, jungle safaris, and nature walks may be enjoyed the most in the Chilapata Forest.
Mendabari Tea Estate
The Mendabari Tea Estate is close and is worth a trip if you enjoy tea. You may join a tour to see the tea gardens and learn about the tea-making process.
Bhutan Border
Baguran Jalpai is located not far from the Bhutanese and Indian frontiers. You may learn about and participate in neighbouring Bhutan's fascinating culture and customs if you have the proper travel documents.